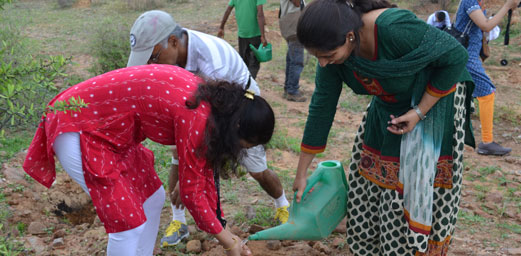 Employees plant samplings.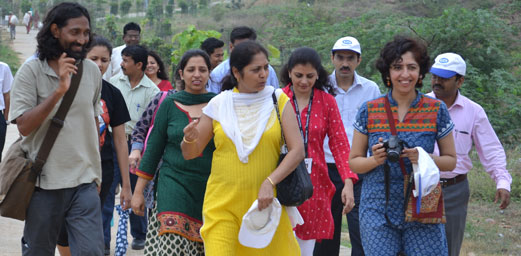 The Punj Lloyd planting team walks through the Gurgaon biodiversity park.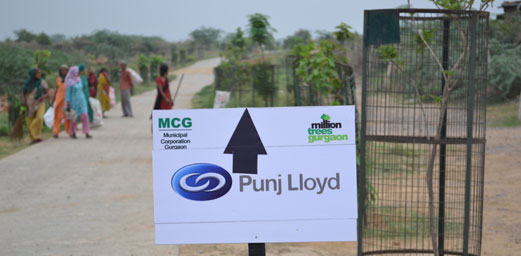 Tree planting at Biodiversity Park, Gurgaon.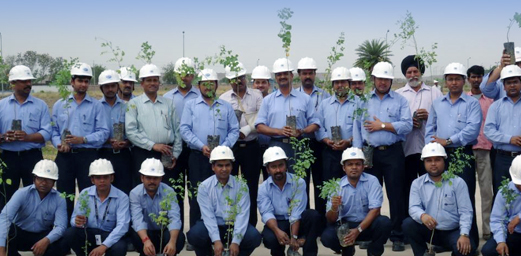 Tree plantation by employees at our MSID facility in Gwalior on the World Environment Day.
Our responsible business practices also extend to our relationship with our employees. Over 21,757 people are permanently employed with Punj Lloyd, 700 of whom at our head offices in Gurgaon, India.
From a supportive and enjoyable working environment to health, safety and protection from discrimination, we aim to ensure that each of our employees gets as much as possible from their life at Punj Lloyd.
Working environment
Our offices in Gurgaon were newly constructed in 2006 and contain a staff gym and bright canteen serving healthy vegetarian cuisine. We also provide transport to the office from Delhi and surrounding areas, not only saving employees' petrol costs but also doing our bit to help the environment. With flexi-time working hours and a number of regular activities to take part in, that we offer a caring and inspiring working environment.
Green Team
Begun by a group of enterprising employees, the Green Team undertakes a number of initiatives to create awareness of environmental issues amongst our head office employees. These include fun activities such as competitions and quizzes, as well as practical action such as the implementation of paper recycling facilities, a tree adoption programme and in-house environment communication drives.
Volunteering
We encourage and facilitate volunteering amongst employees and it has proven to be an extremely popular and well-received initiative. Some of the volunteer activities undertaken to date include participation in a sports day for underprivileged children in partnership with Concern India, distribution of solar lanterns to school children in Gurgaon, tree planting with the Million Trees Gurgaon organisation, and sponsored marathon running (ok it was a half marathon, but we were as proud as if it was a marathon!).
Sexual Harassment Redressal Committee
Sexual harassment in the workplace can be a very difficult ordeal for any employee to go through, and often goes unrecognised and unreported. Our sexual harassment committee aims is to educate women about their rights in the workplace and create a safe space for discussion and redressal of issues without stigma or fear. As per Supreme Court guidelines the committee also includes an external expert who is able to provide impartial advice and considerable experience in resolving issues of this nature.
Next Generation Club
Created as a way to build stronger relationships amongst employees, our Next Generation club has become a hugely popular initiative. It operates activities throughout the year including cultural, social, sporting and knowledge-sharing initiatives for any employees who wish to take part. As well as providing time out from day to day work to explore new ideas and interests, we see it as a way to foster and communicate Punj Lloyd's company values, and to capitalise on the incredible talent, energy and enthusiasm of our workforce. We can only be as good as our people so this initiative is a critical investment in both our team and our future.
Supporting passions
At Punj Lloyd we appreciate that our employees have passions beyond work - in fact we encourage it! And, where we see exceptional potential, we support the pursuit of that passion to the highest level. One example is that of Sunil Kumar, employed as one of our drivers. Sunil had been passionately pursuing amateur athletics in his spare time for several years and achieved some success. Our respect for his long-term commitment led us to sponsor his athletic ambitions, providing equipment, training and nutrition assistance, and supporting him to attend competitions. In the time since, Sunil has won Gold medals at the National Veterans Athletic Championship 2011 and the Annual Delhi State Masters Athletics Championship 2011-2012, providing a huge amount of pride and inspiration for the company and his colleagues.