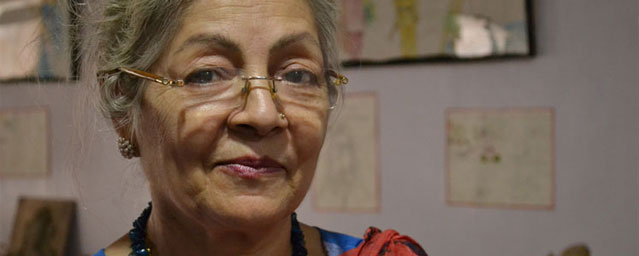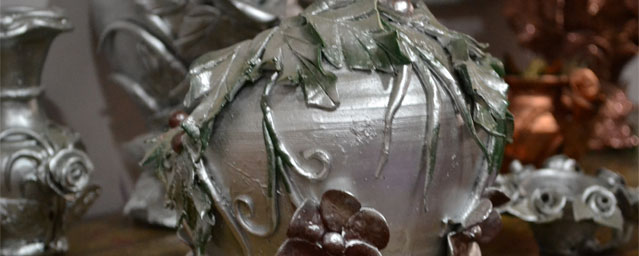 Surjit Anand
Age: Never ask a lady
Occupation: Deputy Director, Bal Bhavan, Sitamarhi
Family: Lives in teacher accommodation in Sitamarhi, grown up children in Delhi.
Surjit: The lady with all the grandchildren
After her children grew up and left home, and her husband sadly passed away, Surjit Anand realised that city life in Delhi was going to be quite lonely. An energetic and elegant lady in her sixties, she had remained active in various welfare organisations in the city, but never imagined that her future would in fact lie in a rural village over 700km away.
It was a close friend who first heard of the opening for a Director at the Sitamarhi Bal Bhavan in early 2009. Surjit initially rejected the idea as foolish but was slowly convinced to make a visit to see the small village. And, as they say, it was love at first sight. She recalls her first impressions with glee:"What a quiet place it is. I love it!"
Seduced by the peace, tranquility and greenery, Surjit packed her things and took up a small apartment in the Dayawanti Punj Model School teacher's building. At that stage the Bal Bhavan was still a fairly informal set up.
"When I arrived classes were held in a hall, there weren't so many people attending then. And just ten days after I arrived there was a camp planned. I thought: 'How am I going to do this? I'm going to have to prove myself!'"
With a burst of energy, Surjit created the Bal Bhavan's first ever advertisements – a series of flyers to be handed out around the surrounding villages. In addition, she arranged motorbikes with loud speakers to drive round the villages announcing the camp and encouraging parents to send their daughters to learn. Over 700 young people turned up to that first camp and Surjit knew she'd made the right decision to come to Sitamarhi.
"I feel very happy around young people. When I'm around children I feel alive", she says smiling broadly.
Surjit's enthusiasm is unwavering but she is very cognisant of the problems still facing the Bal Bhavan and its students.
"The girls are eager to learn but the problem is they get married so early, so they're not thinking they'll ever go out to work". Mostly they want to learn sewing and embroidery to create their dowry and to prepare for being a housewife, not to be able to work."
For the boys too there are barriers: "The boys are learning skills but they want jobs with salaries, they don't want to start a business. But job opportunities are scarce in Sitamarhi."
But Surjit always saw the potential of the Bal Bhavan to impact the lives of people in Sitamarhi. The centre charges Rs 50 per month for boys to take as many classes as they wish – for the girls it's only Rs 30 per month, which is refunded to them on completion of a course. She explains that it's the most economical option for them to learn skills and have a chance to get employment, and this is what she feels is most important about her work.
"When children cross 18 (without education) , their hope is dying. I can give them some chance, some mentorship". Under Surjit's leadership, and with a team of enthusiastic staff, the Bal Bhavan is growing month by month. The centre now has its own building adjacent to the Dayawanti Punj Model School, with two teaching classrooms, a sewing room, music room, photography studio and computer lab equipped with 12 desktops. And the students' attitudes have started to change too.
"Parents are getting used to sending their daughters to learn. The girls don't always have much confidence but the chance to become a modern, young woman is apparent. They're starting to feel more confident. Some have even started wearing jeans and ready-made [salwarkameez] suits, it's surprising to see it."
In the future, Surjit's ambition is to create employment opportunities for the students. She is hoping to set up a small shop selling the craft items they produce. She has also started a class in Italian Lace and is looking for boutiques to whom the centre can supply.
For boys in particular there are plans to introduce tradesman courses in carpentry, electrician work, mobile phone repairs, plumbing and other trades over time. Surjit hopes that, as students qualify, they can be employed as maintenance staff at the centre itself, or the village schools, hospital, temple or the new shops which have started to open in the area.
So for this energetic lady from Delhi, her days in the 'quiet' village have become almost as busy as the city life she left behind. And has it helped her feel less lonely?
"All the children in the school hostel are like my grandchildren. It stops me from missing my own grandchildren so much".
More education case studies