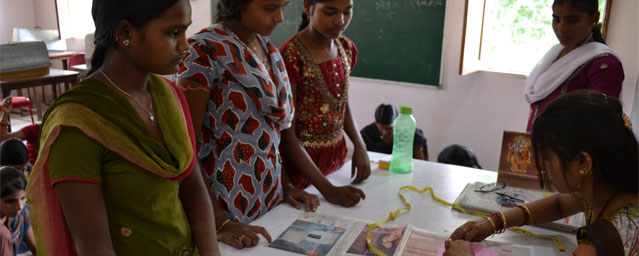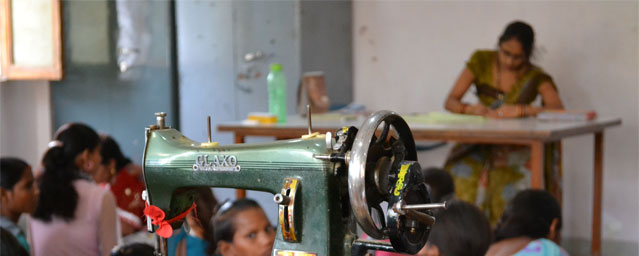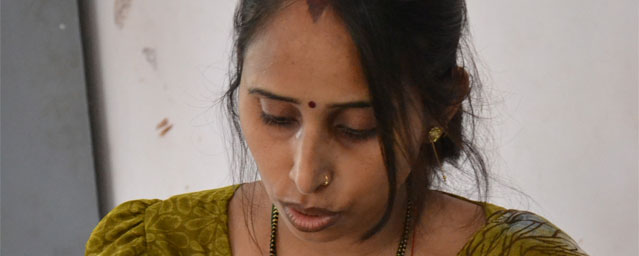 Seema Singh
Age: 30
Occupation: Stitching teacher at Bal Bhavan, Sitamarhi
Family: Lives with husband, two children and parents in-law
Seema: The daughter-in-law with a big ambition
Seema learnt stitching and crochet in the way that many women do, at home with her mother in the village when she was just a girl. Little did she realise that years later it would become a means of employment, opportunity, and pride.
As is traditional across India, Seema lives with her in-laws (her husband's parents) in their family home. In 2010 she heard of a vacancy for a crochet teacher at Bal Bhavan and thought it could be a chance to teach her skills to others and make a living for herself. But she faced resistance - her in-laws believed that "good family" girls shouldn't be sent out to work, they felt a sense of shame at people seeing their daughter-in-law working. It was Seema's husband who helped to change their traditional thinking, eventually convincing them to let her take the post.
Once her work at Bal Bhavan began, Seema experienced a sense of independence she hadn't felt before. Earlier, she says, she felt trapped at home but working at Bal Bhavan changed that:"I teach and learn at the same time, my confidence has increased tremendously"
Although her in-laws still have reservations, the sense of pride and satisfaction she gets from her students far outweighs any difficulties at home, she says. She has even put her life experiences to good use by providing mentorship and advice to the young girls in her classes as they enter into marriage.
Seema's students are a mix of girls from wealthier local families, much poorer families without education or resources, and some government school students. After learning new skills with her, they are able to create clothes and textiles for their families and neighbours, besides their own trousseau for a bridal dowry, which can relieve financial pressure for a poor family. In some instances, girls have invested in sewing machines and are able to earn money from tailoring in the village.
Even widows have been able to build a new place for themselves in society; at one time cast out from village life they have been able to learn new skills at Bal Bhavan and engage in paid work to support their families.
For Seema too, the earnings she is able to bring home proved to be critical for the family. Her husband was out of work when Seema first started her job and her Rs 2,000 a month salary tided the family over during this difficult time until he was able to find work. She says her husband now not only supports her ambitions but appreciates the strength she showed when times were tough. Her children too appreciate what Seema has managed to achieve and are very proud of her.
These vocational skills are very helpful for one's future, when fortunes are down, like in my case. One never knows when one needs to work in difficult times, to support the family.
Speaking about the future, Seema's ambitions are infinitely higher than an average daughter-in-law in Sitamarhi, but she is still cautious of the road ahead.
"I would like to open my own stitching centre if I get my family's support. But it is also a lot of responsibility for one person".
However, sitting at the desk in her classroom with the undivided attention of her students, each clamouring around her for advice and instruction, she is the picture of a confident, professional teacher and it's hard to believe that anything now will stand in the way of her burgeoning dreams.
More education case studies