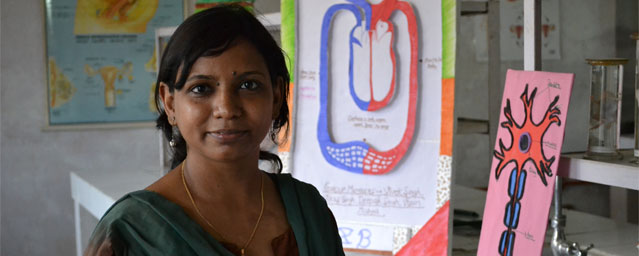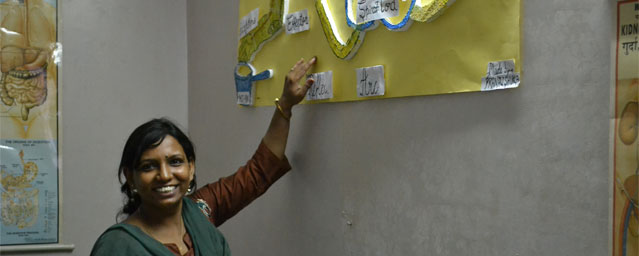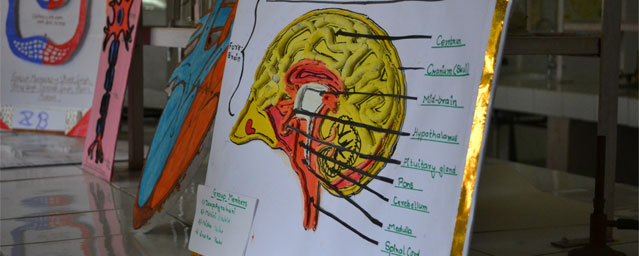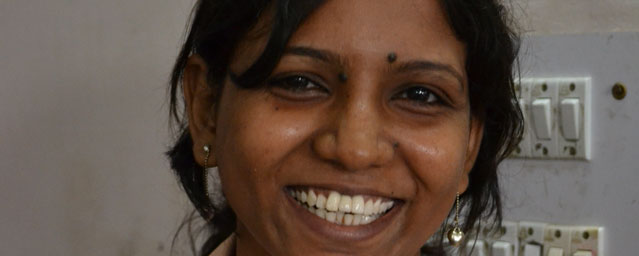 Sangeeta Paul
Age: 26
Occupation: Biology teacher at DPMS
Family: Lives alone in teacher's hostel, family is in Shanti Niketan
Sangeeta: The teacher who's always learning.
Standing by as her students appeared for their Class 12 exams. Sangeeta Paul couldn't hide her feelings:"I was so nervous as this was the first Class 12 batch at the school. It was as if I was sitting for the exam myself."
Dayawanti Punj Model School has proven to be a surprise for Sangeeta in more ways than one. Having graduated with an MSc. and a B.Ed, Sangeeta never imagined her life would take her to a rural village in Uttar Pradesh. But after seeing an advert in her local newspaper, life was set to change.
I wanted to explore places out of Shanti Niketan, Kolkata, which is where I was based after college. I had never been to such a remote place as Sitamarhi but gradually I got used to it. Now I live in the teacher's hostel which was built recently and enjoy living here. I have good friends in my colleagues and our Principal is very friendly so I don't miss city life. The car goes often to Allahabad, Varanasi and Gopiganj so one can go and shop if one needs to.
Sangeeta says she is still learning and evolving as a teacher. Workshops provided by the school help to hone existing skills and teach new ones, and she talks avidly about the school principal who, she says, gets involved in every detail of school life, including those all-important exams: "Thanks to the confidence given to me by the Principal all my Class 12 students passed, with the highest scoring 96 percent."
Although she points out that many of the students' parents haven't been through education themselves and that there is a lack of electricity in the village, both of which make it difficult for students to study, she is proud to draw attention to the hard work of her class. Standing in her biology laboratory she excitedly showcases the 3D models they have created, adorning the walls and benches. With a mix of pride and excitement she explains the various biological systems depicted in each.
The challenge of teaching in a rural village is a tough one but tempered by the unique experiences that the environment provides – for Sangeeta the learning curve has shown no signs of slowing down.
What I have learnt after coming here is patience. I used to be hot tempered but now I have learnt so much from my students and teachers, an ability to handle different situations. One needs to view everything from different angles, I learn something new every day.
More education case studies