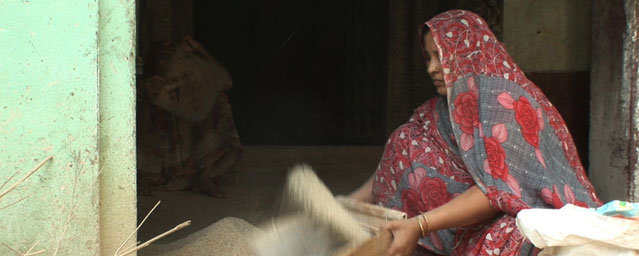 Rekha Pandey
Age: 38
Occupation: Mid-day meal cook at DPMS
Family: Lives with one son and three daughters, husband passed away.
Rekha Pandey
When Rekha Pandey lost her husband it became increasingly difficult for her to make ends meet.
"After my husband expired I didn't even have a proper place to live. Sometimes my children only had dry chapatis with pickle, sometimes rice with salt."
She had seen other children in the village being educated at Dayawanti Punj Model School and heard about the assistance given to people, especially widows, through the village development programme. One day she found the courage to ask for help herself.
"When I used to see other children studying, my heart used to agonise whether any of my children would be able to study like that. I went [to the school] very upset, I cried the entire way but on reaching there I met Ma'am (Premlata Mishra, a community worker at the school). Meeting her gave me immense relief, she said: 'Come here, there is a vacancy for making mid day meals, you can come here as a cook'."
This proved to be a turning point for Rekha. As a widow she was enrolled in the Village Development Programme and given food rations, clothes for herself and her children, blankets and free medical care. With her modest cook's salary she was also able to move her family into a small house.
And from there things got better and better as Rekha and her children started to reach out for more opportunities.
"I prayed to Sita Mata and then went to request sponsorship for Stuti (Rekha's daughter) to study at DPMS. I could not even think that I could make her study there. I have only one son and I could not afford to educate him. But Stuti got through. They called me and I went to get the uniform, the books etc. On my way I kept thinking that it was only Stuti's good luck that got her the sponsorship. My daughter's entire life has changed."
Rekha's eldest daughter was too old to enter DPMS but she enrolled to learn stitching and mehendi at the Bal Bhavan vocational training centre. She went on to become a teacher at the centre, earning a salary of her own and helping Rekha with the household expenses.
It's a great advantage, she is looking after our house's expenditure like oil and salt and she helps me in my troubles. For me my daughter has proved to be like a son. Even after she goes from this house my soul will be satisfied that wherever she goes she will be able to earn and eat properly".
For Rekha life has changed for the better in many ways, but taking the steps to turn her situation around was not without difficulties.
I came out of my troubles with a lot of hard work, with great pain. When I first started working my in-laws said many things, they said I would re-marry and mix with ruffians. I am under a lot of pressure but I hear those voices and suppress it. I go [to work] everyday and come back whatever happens. I get immense strength from there. I speak to Premlata (DPMS community worker) and she says: 'Let them speak, you don't listen, they will keep barking but you do what you have to do'.
Read more about Premlata Mishra, Community Worker at Dayawanti Punj model School.
More community case studies