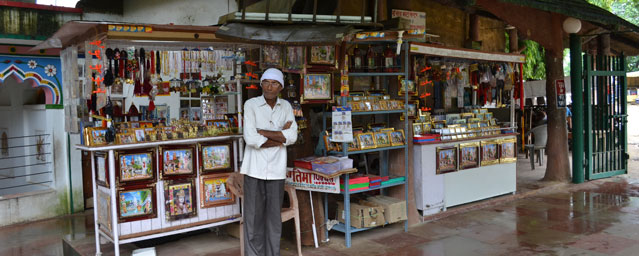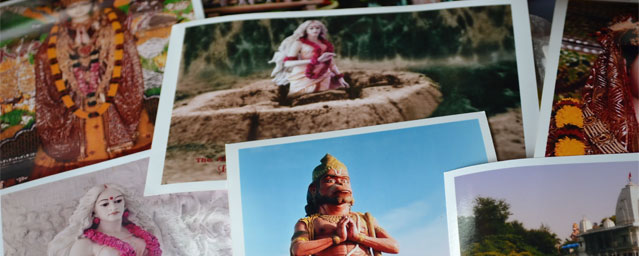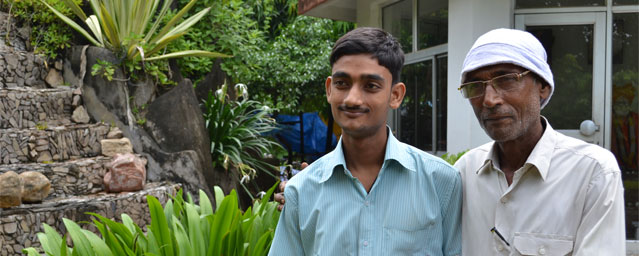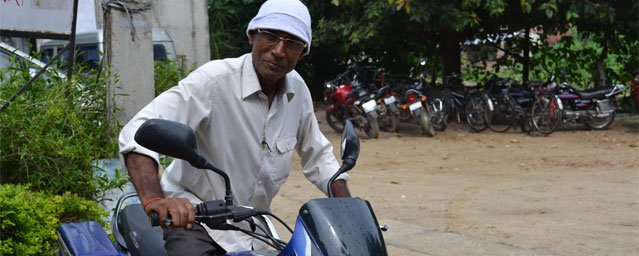 Gulab Singh
Age: 50
Occupation: Photographer and shop owner
Family: Wife, three sons, one granddaughter
Gulab: A photographer and a gentleman
Gulab Singh, a shopkeeper at the Sita Samahit Sthal temple recalls how the construction of the temple in Sitamarhi was a turning point in his life, in more ways than one.
Gulab is no simple man. A unique mix of a bygone era with the rich potential of the present, his English is as grammatically sound as his old time Hindi. He humbly apologises for not remembering dates or years. "Those days it was not really important", he says. What he does proudly remember is learning photography at the famous Model Studio followed by his first job at the Goel Studio in Dehradun. Returning to his native home 15 years later, Gulab started his own studio in Gyanpur, 12km from Sitamarhi.
When Mr SNP Punj was constructing the temple at Sitamarhi in 1997, which was to be India's only temple dedicated to Sita, he needed a reliable local photographer to take regular pictures and keep him updated on progress. Gulab was chosen and that was his turning point.
Gulab impressed Mr Punj with his photography, his work ethic and his easy manner. So when the opportunity arose for a photography and souvenir shop once the temple was complete, Gulab was given the chance to build his own business within the complex, an opportunity he had always wanted.
Alongside running his shop, Gulab is commissioned to take pictures and videos of community weddings at the temple, as well as pictures of pilgrims at the site. He also takes photographs professionally for other events in and around Sitamarhi.
"Pilgrims from Allahabad on their way to Kashi stop by Sitamarhi. On average up to 5000 pilgrims visit the temple on a given day, and as many as 50 buy framed pictures of Goddess Sita from our shop". Speaking with a smile in his local Hindi dialect, he adds:"So business is good"
The influx of customers and regular trade helped Gulab to build a new future for himself and his family, alongside the other traders operating around the gates of the now famous temple.
"I have made my kachcha (mud) house into a pakka (cemented) house.
I am also expanding it to provide for the growing family. But the front of the house is still kachcha, I believe that mud houses increase the longevity of life; how else could one explain the good health enjoyed by the swamis and older village community?"
Gulab has also replaced his cycle with a motorbike, meaning his travel time to and from photography jobs is used more efficiently, and enabling him to expand his reach to nearby towns and villages. It also enables him to get quickly to and from Bal Bhavan where he is working as a photography teacher.
Although Gulab lost his mother when he was an infant, his father was a practising lawyer and education runs in the family. Gulab sent his own children to school and, helped by the income from his newly formed business, he has been able to support them through university too.
Today his three sons have found their place in life. His eldest son is a supervisor in a manufacturing company, his second son is a computer engineer, and the youngest son is studying for a BA, often taking his books along to the family store to be on hand to help his father.
"I always wanted a daughter but had three sons. But god answered my prayers in the form of my grand daughter who is the love of the family. My second son guides me in making full use of my digital camera as he is technologically sound. I have gone through the digital camera literature in detail; it's quite the same as what I had learnt in photography, except one needs to know the different modes and such".
Of life Gulab has only one regret:"Photography is an art and has a lot of potential but my sons are not interested to take it further. My shop will die with me".However he has other ambitions for himself and his children too:"Given the chance I'd like my children to travel abroad and explore the world. For myself, I would just like to go to KailashMansarover (Mount Kailash), my health permitting of course".
And with that Gulab says goodbye - in his rather formal, eloquent English. And returns to his position at the busy entrance to the temple.
More community case studies